Impossible meatball parm : Live Updates Every Minute from 25K+ News Agencies Across the Globe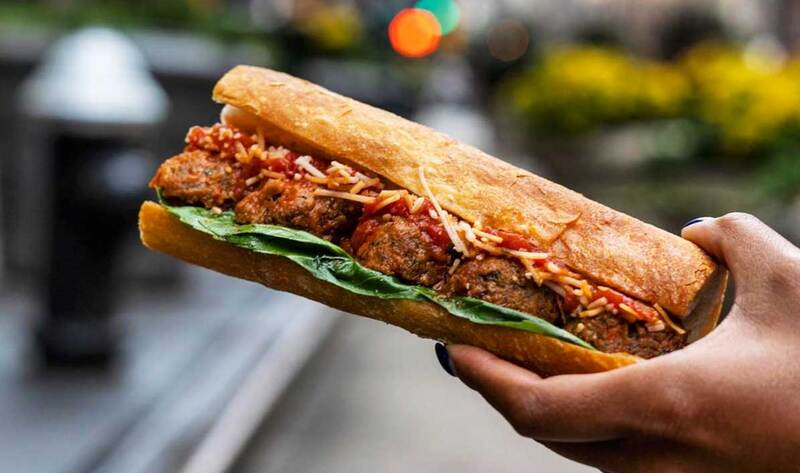 Shares
New York City chain Fresh&Co recently launched its winter menu featuring the Impossible Meatball Parm sandwich, a fully vegan version of the Italian classic. The new sandwich is made with Impossible Foods' plant-based meatballs, San Marzano tomato sauce, vegan cheese, fresh basil, is served on a baguette, and costs $9.95. "We decided to offer the Impossible Meatball Parm with vegan cheese as we've seen a lot of success with our Impossible vegan sandwiches," George Tenedios, Fresh&Co CEO and co-founder, told VegNews. "Last year, our Winter Impossible Bahn Mi was a fan favorite and when we introduced a vegetarian Impossible Meatball Parm in the Spring (made with mozzarella), we had an immense amount of requests to make it vegan, so we did. Our fresh fam continually requests to see more vegan options so as we innovate our menus, we make it a priority to have delicious vegan options for them to enjoy." The winter menu also features a new Beyond Breakfast Bowl comprised of Beyond Meat's vegan sausage, eggs, avocado, braised kale, and quinoa, served with the company's house-made hot sauce (ordered vegan by omitting the eggs). In addition to the new options, Fresh&Co offers Impossible Meat as part of several existing menu items, as well, including the Questlove Cheesesteak—a vegetarian sandwich developed by Grammy award-winning musician Questlove from legendary band The Roots. In September, fast-food chain Subway began testing the Beyond Meatball Marinara sandwich (ordered vegan without cheese) at 685 select locations in the United States and Canada before expanding its Canadian test nationwide earlier this month.

fresh&co, a family-owned restaurant chain that caters to vegan, vegetarian, gluten-free, and meat-lover customers, recently launched its plant-based winter menu for breakfast, lunch, and dinner dishes.
The 2020 fresh&co plant-based winter menu includes the vegetarian 'Beyond Breakfast Bowl' with Beyond Sausage, two eggs, avocado, braised kale, organic quinoa, and hot sauce; gluten-free 'Turkey Avocado Sandwich' with smoked turkey, avocado, pepper jack cheese, arugula, tomato, chipotle aioli served on gluten-free Pullman Bread; and the vegan 'Impossible Meatball Parm' with Impossible Meatballs, San Marzano tomato sauce, vegan cheese, fresh basil served on a Baguette.
fresh&co is also re-introducing some favorite dishes including the Questlove's Cheesesteak -- a vegetarian sandwich made with plant-based Impossible meat and served with cheese sauce, banana pepper relish served on an Amoroso's Roll. A portion of the sales from this sandwich will be donated to the Food Education Fund at Food and Finance High School.